A Truly Good Reason to Switch Your Insurance
Introducing Stress Free Switch by Branch
June 25, 2020
---

Written by
Steve Lekas
CEO & Cofounder
Even if you've never purchased home or auto insurance before, chances are you've heard this story: a cable company (or mobile provider...or gym...) offers you a deal: sign up with us and we'll give you better service at a lower price.

Fast-forward two years: your bill is twice what it should be, and it's time to switch providers again.

The same basic thing happens with home and auto insurance. Instead of rewarding their most loyal customers, some insurance providers may increase prices on their existing customers, to lower the price for new customers.

Why do they do this?

First off, most customers don't realize how easy switching can be. If all they've ever known is legacy insurance providers (i.e. reams of documentation, business hours-only phone calls, cancellation fees, and slow refunds), it's no wonder they hesitate to go shopping for a new plan.

Second: Most people don't know their plan is overpriced. It was the best deal around when you signed it, so why wouldn't it still be?

Third: It's counterintuitive. You've been with your provider for a decade, you've never missed a payment, and never submitted a claim. That has to count for something, right?

Unfortunately, no. Often, the longer you hang onto your current policy, the greater the chance you're overpaying for it. What's more, if your provider is technologically-challenged, getting rid of them will take more than a breakup text (think: divorce mediation).

Branch is here to change all of that.

We're tackling every corner of home and auto insurance to make it better —bundling home and autoto save you money, introducingcommunity-driven programsthat reward (rather than punish) your loyalty, and now, making it easier than ever to change your plan.

How does Branch make switching easy?

Short answer: It's as easy as a ☑️

Medium-length answer:

Step 1: Select the "Stress-Free Switch" option at checkout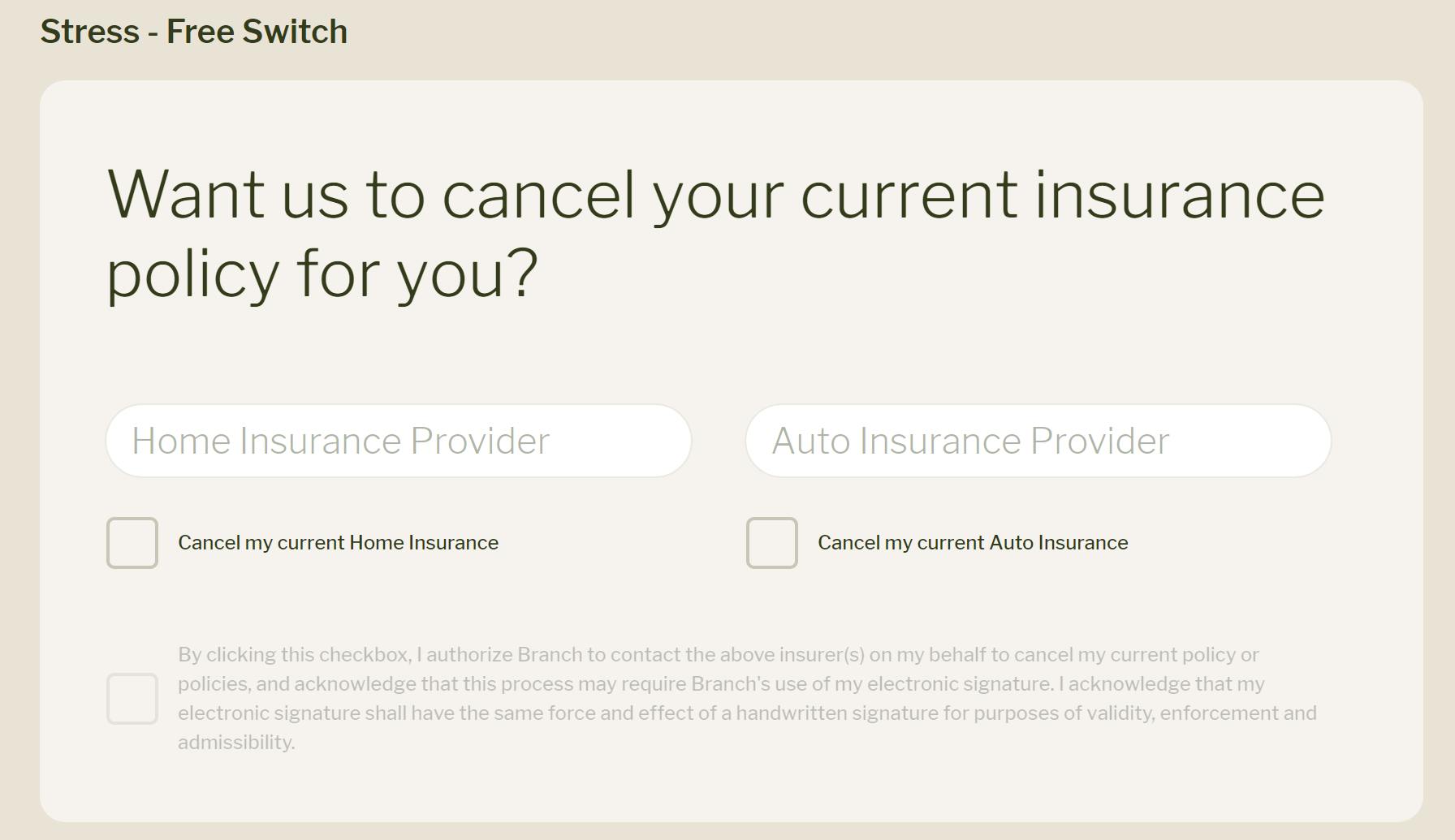 Step 2: We'll seamlessly handle cancelling your existing insurance policy for you once your Branch policy is in effect (don't worry, you won't go a day uninsured, and you'll never pay for two policies at once)

Step 3: You'll be reimbursed by your former insurance company for any unused premiums

How does Stress-Free Switch work?

Once you select the Stress-Free Switch option we get on the phone with your current insurer for you and take care of the entire cancellation process. Your insurance company will be legally required to refund you for the days you're no longer insured with them, so we'll be sure to stay on them to make sure you get that refund ASAP.

As for your new, improved, cash-saving policy? We'll automatically generate your documents for you, and you can e-sign them in just a few seconds.

Cancellation Fees

Your current insurance company may charge you a cancellation fee for switching. If so, we'll cover that, too.* In fact, while we hope you become a part of the Branch community, we'll pay your cancellation fee even if you choose to buy from another company.

Why you should switch

To sum it up: if you're asking yourself, "should I switch my home or auto policy?", the answer is probably yes.

Unless, that is, you're already with Branch in which case your last switch should be your last (ever). You'll never have an easier transition, and we'll always prioritize you (and your wallet) over new recruits.

Alas, we don't have any good Caveman jokes to tell you. No talking animals here. We won't be entertaining your aunt Marge on Superbowl Sunday. That's because we've put all our muscle into building the simplest, easiest, fastest, most pain-free way to get a new insurance policy — one that doesn't cost more the less attention you pay.

In other words, we've built this.




*Terms and conditions apply. Open to residents of Arizona, Illinois, Missouri, Ohio, and Texas who obtain a quote for insurance coverage from Branch. No purchase necessary. Limit one payment of up to $50 per household. Reimbursement request must be made within 30 days of obtaining Branch quote. Documentation of new coverage and payment of cancellation fees to prior insurance company required. Program may be suspended, discontinued, or modified at any time.
Want a price?
Get a price within minutes with just your basic information